Tagged With:
animal photo
This is our newest little guy.  The photo was taken not long after some hard playing.  He just loves to play!!
Here's our little guy….
For other cute critters, please check out Camera Critters.  Be sure to join in if you have your own critters!!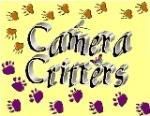 Please  click here to vote for my blog….thanks!!
Categories:

Blogging, Daily Life, Family, Friends, General, Home, Life, Memes, Photography, Photos-Pictures, the Home, Uncategorized
Tags:

animal photo, black and white, Camera Critters, dog, linky, meme, Pets, photo, photo meme, photography, photography meme, terrior
Leave a comment
The subject of today's Foto Finish is "things with 4 legs".  I'm always excited when I can share photos of our 4-legged family.  Yes, my plan was to go with the dogs or even the turtle.  But today, I'm going a different direction.
Because of the wildfire that's burning at the Wildlife Refuge, I wanted to share the buffalo that I shot while we were out there the other day.  This guy was moving away from the flames and to the almost dry pond.  I have a true fascination with the buffalo and longhorns.  I'd love to go out there more than we do.  I was so sad watching him move and seeing all that land burn.  All the water is almost dry because we've gone so long without rain and it's been unseasonably HOT!!
Here's my Foto Finish (click to enlarge)….
Do you have any photos of "things with 4legs" ??   If you do, just post your photos and click the button above to join in on Foto Finish !!
Categories:

Blogging, Daily Life, Family, General, In the News, Memories/Experiences, Photos-Pictures, the Home, Uncategorized, Vacation Time
Tags:

animal photo, animial photography, buffalo, Foto Finish, photo, photo meme, photography, photography meme, photos, wildfire, Witcha Mountains Wildlife Refuge
3 Comments