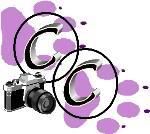 Today, I have a 2-fer!!  I'm participating in Foto Finish and Camera Critters.  The theme for this week's Foto Finish is "things that fly".

I absolutely love feeding the birds.  We don't get a large variety in our backyard, mostly 2 varieties of sparrows.  However, we have had a Cardinal couple that has visited for months now and I love them!!  We also get Pigeons and Morning Doves.  A couple weeks ago, we were visited by a Bluejay and I've already shared a photo of him.
Much to my happiness, while my parents were visiting us last weekend, a Hawk started to appear.  It seems to be making a home nearby.  In the photo that I chose, you can see some straw or twigs in its mouth.  I haven't seen it at all this week, but I keep watching.  I have to believe that it'll be back!!

Here's my Foto Finish and Camera Critters (click to enlarge)….
Do you have any photos of "things that fly" or any critters?? If you do, just post your photos and click one or both of the button above to join in on Foto Finish or Camera Critters!!