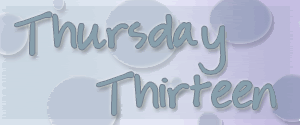 There is no man, especially movie star, that's as American and as cowboy as John Wayne.  He basically lived the life that he portrayed.  He's been my favorite since I was just a little kid.  I grew up knowing that only the best men were like "the Duke"!!  I decided that my entry back into the "Thursday Thirteen" world should be about him.
These are my 13 favorite John Wayne movies…..
1.  The Shootist
2.  The Searchers
3.  The Cowboys
4.  McLintock!
5.  The Green Berets
6.  She Wore a Yellow Ribbon
7.  (TIE)  The Fighting Seabees, Flying Leathernecks, and The Flying Tigers
8.  3 Godfathers
9.  Red River
10.  A Lady Takes a Chance
11.  (TIE)  Donovan's Reef and North to Alaska
12.  Hatari!
13.  Stagecoach
Yes, there's so many more that could be on this list.  But really, how does one choose just 13??  Well it doesn't matter because this is MY list and I'm sticking to it!!
Ride off into the sunset, cowboy….you'll be in our hearts forever!!
Get the Thursday Thirteen code here!
The purpose of the meme is to get to know everyone who participates a little bit better every Thursday. Visiting fellow Thirteeners is encouraged! If you participate, leave the link to your Thirteen in others' comments. It's easy, and fun!
Trackbacks, pings, comment links accepted!